Testimonials - Some of our thank you letters...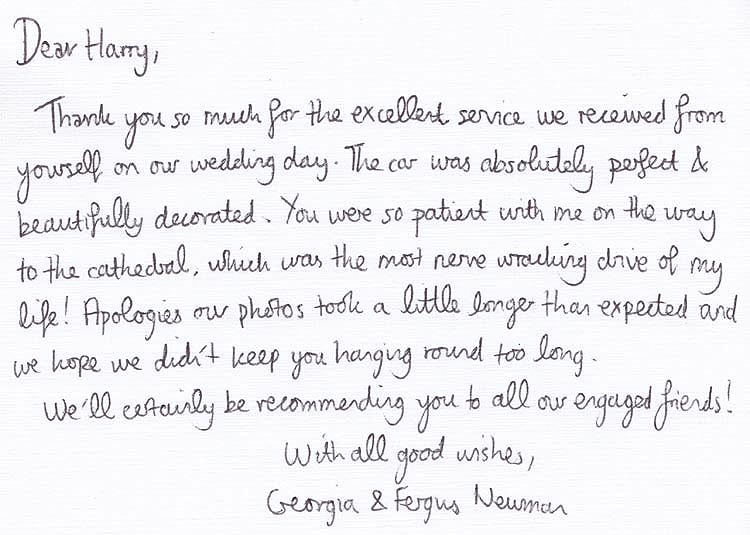 Dear Harry,

Thank you so much for the excellent service we received from yourself on our wedding day. The car was absolutely perfect & beautifully decorated. You were so patient with me on the way to the catherdral, which was the most nerve wracking drive of my life! Apologies our photos took a little longer than expected and we hope we didn't keep you hanging around too long. We'll certainly be recommending you to all our engaged friends!

With all good wishes,
- Gerogia & Fergus Newman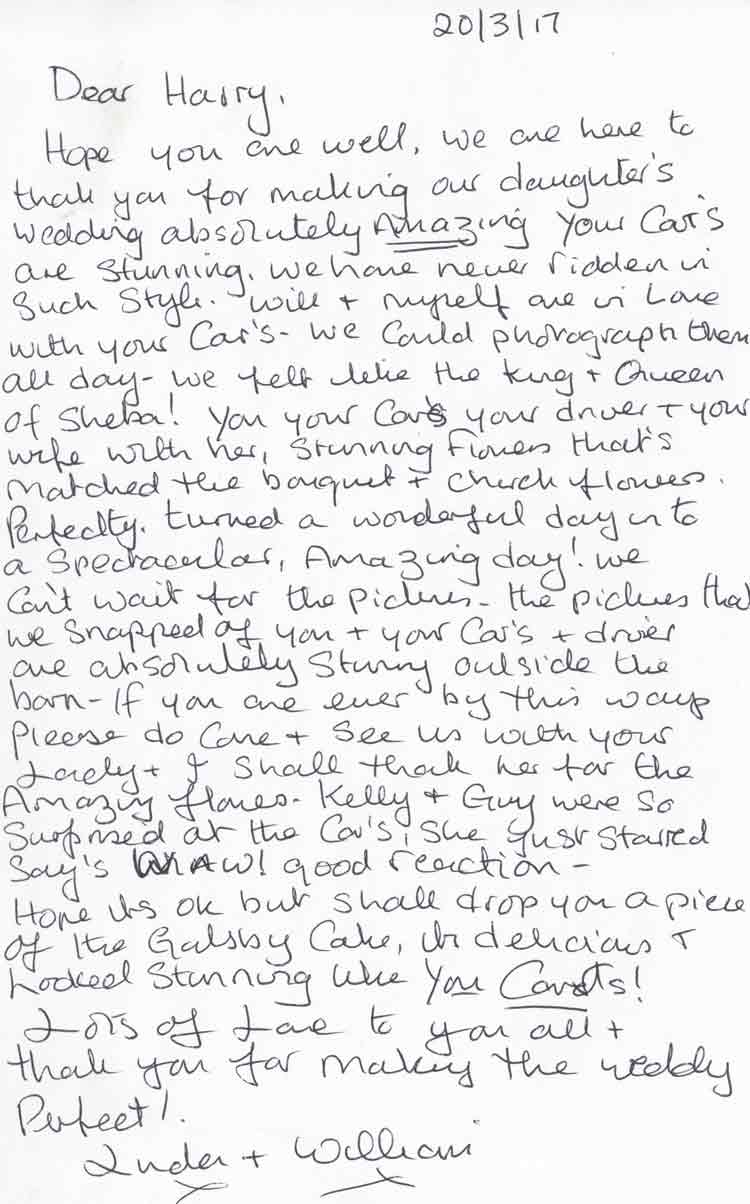 Dear Harry,

Hope you are well, we are here to thank you for making our daughter's wedding absolutely amazing. Your cars are stunning, we have never ridden in such style. Will & myself are in love with your cars. We could photograph them all day - we left like the King & Queen of Sheba!

You, your cars, your driver + your wife with her stunning flowers that matched the bouquet + church flowers perfectly, turned a wonderful day into a spectacular, amazing day!

We can't wait for the pictures - the pictures that we snapped of you + your cars + driver are absolutely stunning outside the barn. If you are ever by this way please do come + see us with your lady + I shall thank her for the amazing flower. Kelly & Guy were so surprised as the cars, she just starred, say's WAW! Good reaction

Hope it's ok but shall drop you a piece of the Gatsby cake, it's delicious + looked stunning like your cars!

Lots of love to you all + thank you for making the wedding Perfect!
- Linda + William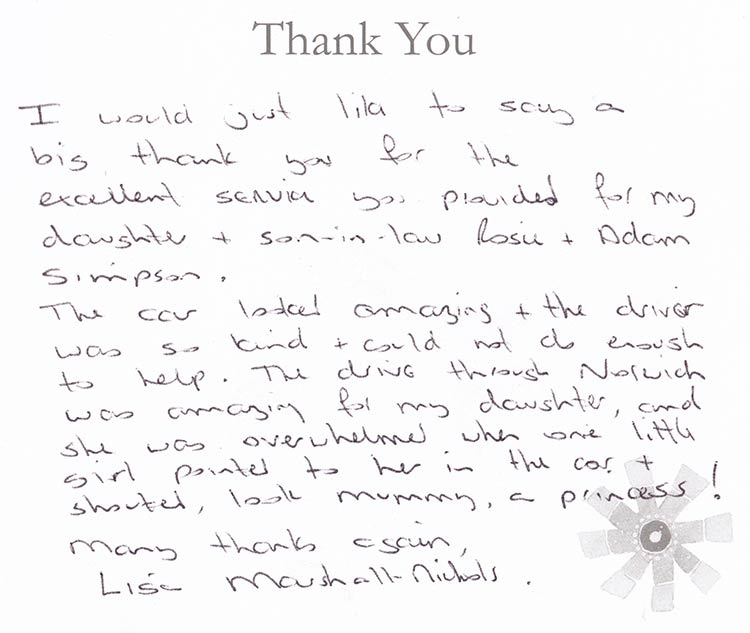 I would just like to say a big thank you for the excellent service you provided for my daughter & son-in-law Rosie & Adam Simpson.

The car looked amazing and the driver was so kind and could not do enough to help. The drive through Norwich was amazing for my daughter when one little girl pointed to her in the car and shouted, "Look mummy, a Princess!"

Many thanks again.
- Lisa Marshall-Nichols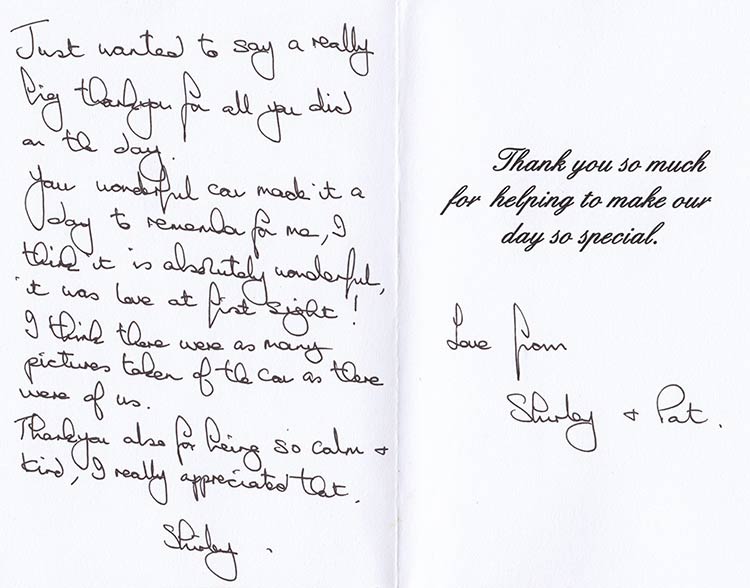 Just wanted to say a really big thank you for all you did on the day.

Your wonderful car made it a day to remember for me, and think it is absolutely wonderful, it was love at first sight!

I think there were as many pictures taken of the car as there were of us.

Thank you also for being so calm and kind, I really appreciated that.

Love from
- Shirley & Pat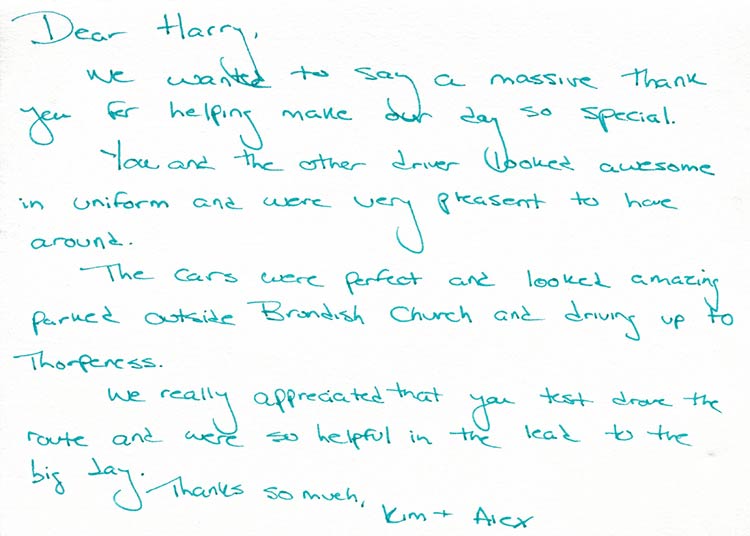 Dear Harry,

We wanted to say a massive thank you for helping make our day so special.

You and the other driver looked awesome in uniform and were very pleasant to have around.

The cars were perfect and looked amazing parked outside Brandish Church and driving up to Thorpeness.

We really appreciated that you test drove the route and were so helpful in the lead to the big day.

Thanks so much,
- Kim & Alex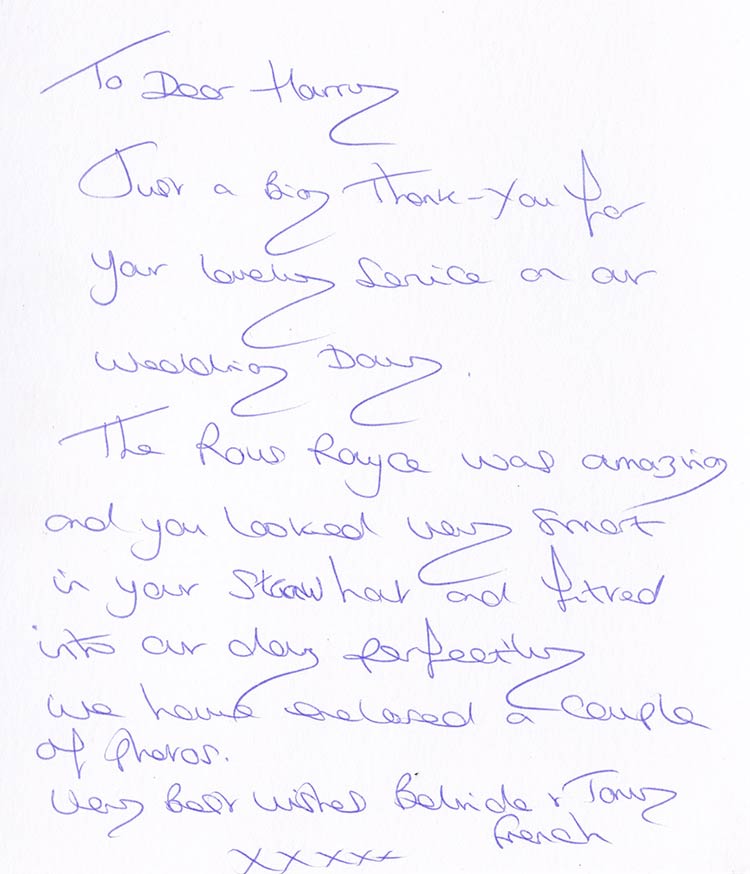 To Dear Harry,

Just a big Thank-You for your lovely service on our wedding day.

The Rolls Royce was amazing and you looked very smart in your straw hat and fitted into our day perfectly. We have enclosed a couple of photos.

Very best wishes xxxxx
- Belinda & Tony French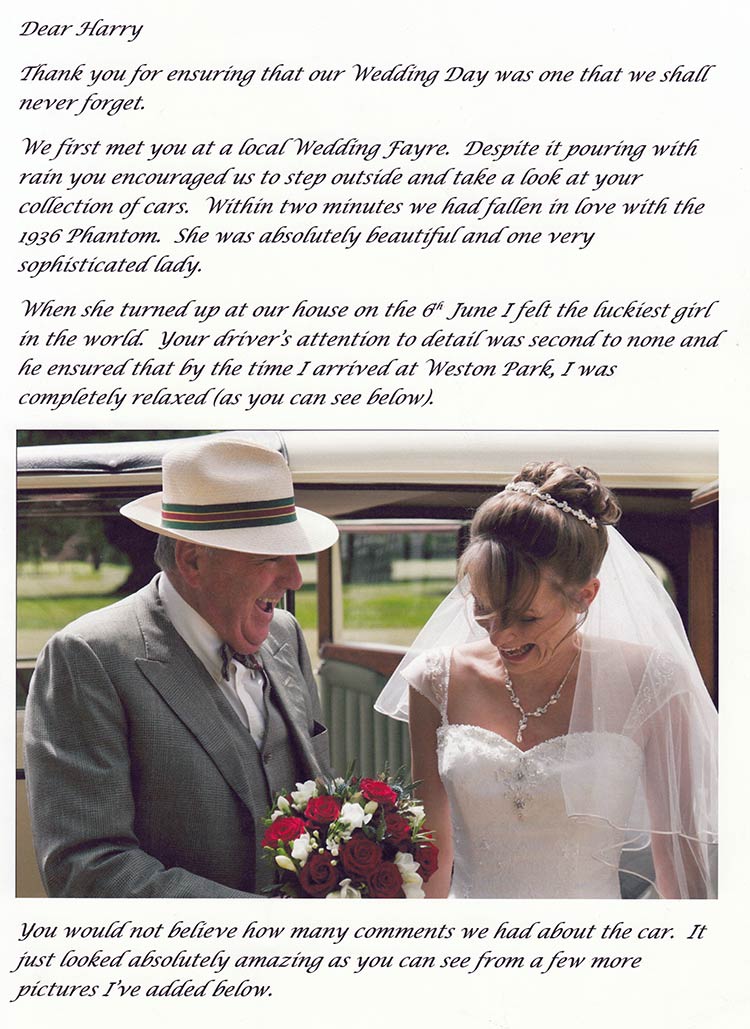 Dear Harry.

Thank you for ensuring that our Wedding Day was one that we shall never forget.

We first met you at a local wedding fayre. Despite it pouring with rain, you encouraged us to step outside and take a look at your collection of cars. Within two minutes we had fallen in love with the 1936 Phantom. She was absolutely beautiful and one very sophisticated lady.

When she turned up at our house on the 6th June I felt the luckiest girl in the World. You driver's attention to detail was second to none and he ensured that by the time I arrived at Weston Park, I was completely relaxed (as you can see below).

You would not believe how many comments we had about the car...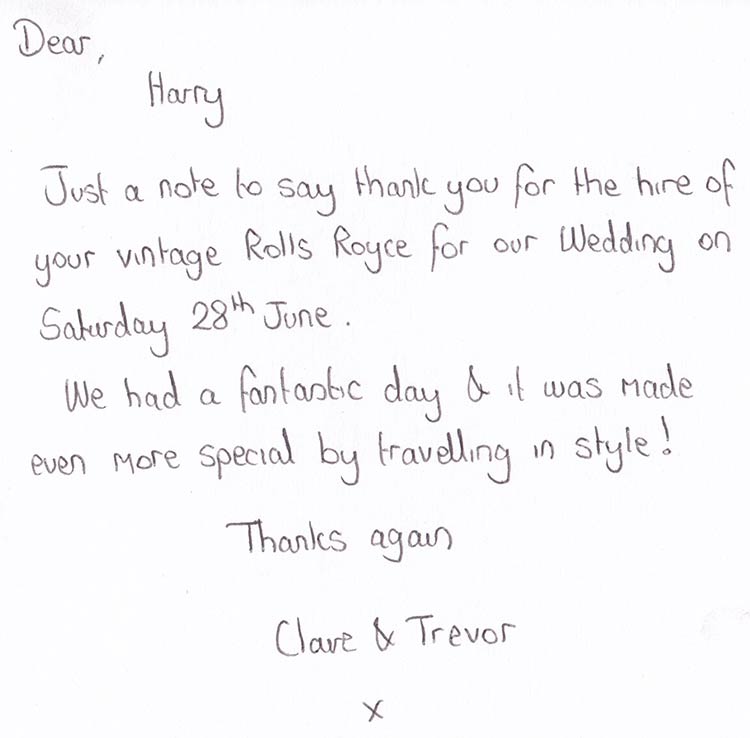 Dear Harry.

Just a note to say thank you for the hire of your vintage Rolls Royce for our wedding on Saturday 28th June.

We had a fantastic day & it was made even more special by travelling in style!

Thanks again
- Clare & Trevor x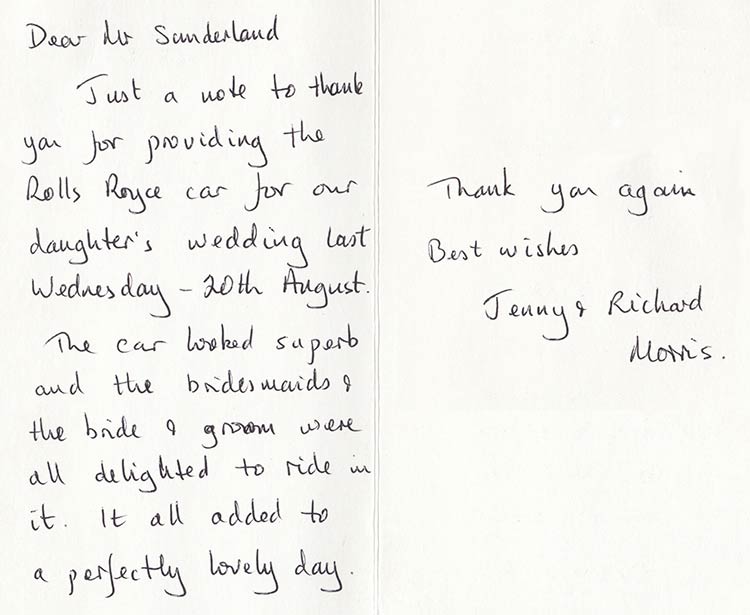 Dear Mr Sunderland.

Just a note to thank you for providing the Rolls Royce car for our daughter's wedding last Wednesday, 20th August.

The car looked superb and the bridesmaids & the bride & groom were all delighted to ride in it. It all added to a perfectly lovely day.

Thank you again, Best wishes
- Jenny & Richard Morris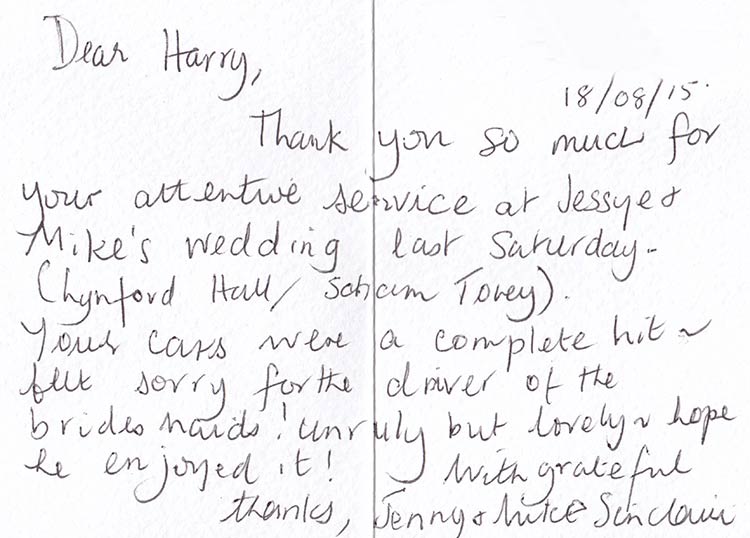 Dear Harry,

Thank you so much for your attentive service at Jessey & Mike's wedding last Saturday at Lynford Hall.

Your cars were a complete hit, but sorry for the drive of the bridesmaids! Unruly but lovely, hope he enjoyed it!

With grateful thanks,
- Jenny & Mike Sinclair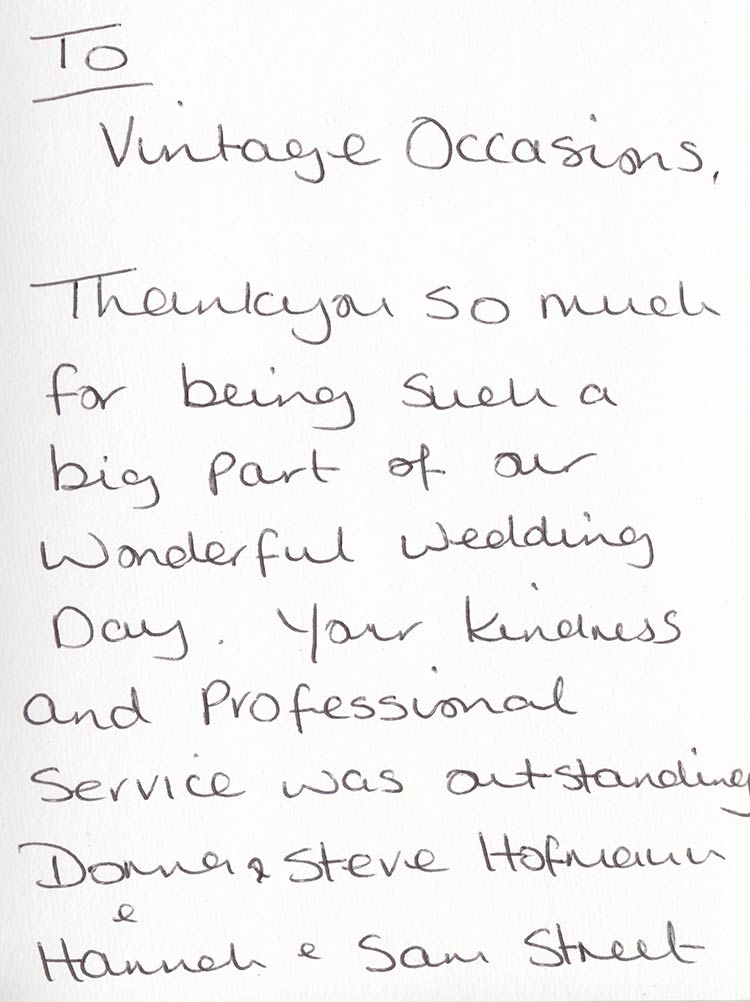 To Vintage Occasions.

Thank you so much for being such a big part of our wonderful wedding day. Your kindness and Professional Service was outstanding.

- Donna & Steve Hofman, Hannah & Sam Street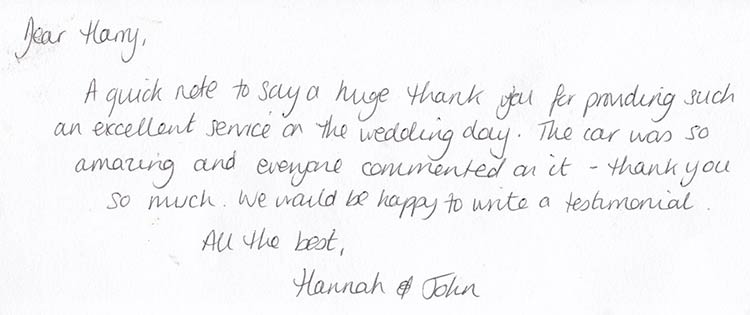 Dear Harry,

A quick note to say a huge thank you for providing such an excellent service on the wedding day. The car was so amazing and everyone commented on it - thank you so much. We would be happy to write a testimonial.

All the best,
- Hannah & John
Join our list of satisfied customers! For enquiries, availability and bookings please ring Harry or Molly Sunderland on 01603 891222 or contact us via the Bookings Page